Settlements
What Are They?
Settlements are re-playable side-quests where your City assists another civilization to establish a city for special rewards, buildings and emissaries to assist your City. The rewards are generally the same (FP!) but there are some variances between the Vikings, Feudal Japan and Ancient Egypt settlements. Viking rewards skew towards combat/goods, Japan to supplies/good and Egypt to army units/guild goods.

Other than time, the cost to your City with settlements are Coin and Supplies; however, Japan will also need Goods.
To start a Settlment, select the transportation boat and you will be brought to the Settlement screen. Choose the Settlement by scrolling up/down on the left to the desired one and select "Start".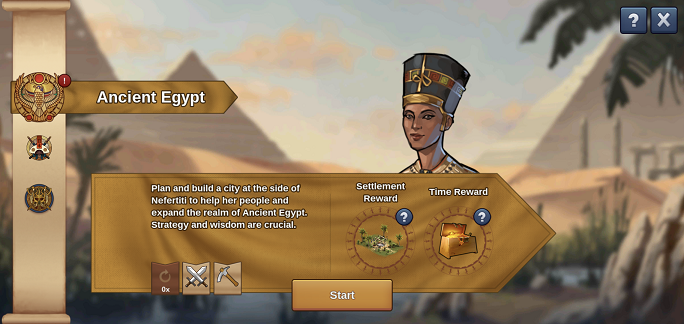 For new cities, a sequence of consideration is:
Two (2) completions of Fuedal Japan to unlock the Emissary (+1 FP/day).
Two (2) completions of Vikings: Return is an Emissary (+1 FP/day).
Four (4) completions of Egypt: Return is an Emissary (+1 FP/day), and, a Bathhouse (Level 3) providing Coin, 6 FP, and 4 Army Units each day.
One (1) additional completions of Vikings: Upgrade of Yggrdrasil (Level 2) providing additinal Coin, Supplies, 10 Goods, 1 FP each Day and 6% (Attacker) Attack Boost.
Three (3) additional completions of Fuedal Japan: Upgrade of Shinto Temple (Level 4) providing Coin, Supplies, 5 Goods, and 2 FP.
The purpose of finishing up with Feudal Japan is so should you desire, you may continue this Settlement until you have achieved the final Shinto Temple upgrade - again for consideration given the awesomeness of a maxed Shinto Temple in a very short timeframe. Of course, you may opt to do all of one first, then another and so forth or none at all.
General Strategy for Viking and Feudal Japan
The overall strategy is the same as your City where you start with a small amount of land space and limited buildings except you can draw on your City's resources (Coin/Supplies) to develop the Settlement. Upgraded settlement structures can be unlocked using the Settlement's Currency and Diplomacy. The following is a good approach for your opening moves of the Vikings and Japanese settlement for those that are new:
Start the settlement approximately 1.5 hours before going to bed.
Immediately build enough houses to establish 2 Goods buildings.
Push the houses around so there is enough property available to build 2 goods buildings (do NOT worry about connecting them with roads – pack em in tight).
Construct 2 Goods buildings and connect with roads (1 hour build time).
Set each Good building to produce 10 goods (8 hours) and sleep.
Unlock the Supply building and 2 land expansions.
Remove 1 (or both) Goods building, any Diplomacy structures needed for #6 and build the maximum number of Supply buildings.
Throughout the day, produce supplies (and goods), to build up a stockpile so you can set your goods buildings to produce 10 Goods during the overnight hours.
Note 1: The key to success in beating the completion clock is essentially tearing down the settlement and rebuilding it multiple times (which is why you need an effective supply production in your City to help the settlement.)

Note 2: For Vikings, never utilize one type of Good for more than 2 Land Expansions.
VIKINGS
Vikings is a Settlement minigame that will ramp up your offensive combat bonus as well as provide Forge Points (FP), Coin and Goods! Here are tips and tricks to help out and we have created a Vikings Companion Guide to assist.
First, review the General Strategy above to get your Viking Settlement started. That "opener" will allow you to exercise two Land Expansions and unlock Shrines in the shortest time.
The second trick is basically do NOT use roads to connect your shacks (and sometimes other housing if needed). Hide them in the corners out of the way, stack them two, three or four deep; housing rewards are garbage compared to supply buildings and in the beginning, this technique provides more space for Shrines and other supply buildings.
Next, make your settlement a place for production or a place for supplies/diplomacy; ya can't have it both ways and finish quickly so prepare for a lot of bulldozing and rebuilding. You will cycle between these two modes for the duration.
Only perform TWO Land Expansions per Good type. No more is required but feel free should you hit a Goods bonus and have unused/unplanned excess.
Spend your waking time SLOWLY building up goods but MASS producing supplies and your sleeping time mass producing GOODS and close to zero producing SUPPLIES. This means during your waking time your constructed goods buildings will probably start at 0 the first day, then 1 every day for a few days, then 2 and so on as you build up a Supply bank and expand the land.
You typically will have all materials but not enough Diplomacy. Bulldoze appropriately and pump up the Trust. Again, once built, roads are NOT required to give you the Diplomacy you have earned so pack the buildings in good and tight to get those unlocks.
Look for areas to NOT WASTE time in building. For instance, gather all the materials for the Clan Totem AND Market before bulldozing to put in buildings only once to unlock those two. I typically will gather all materials for both and the Wool Farm as my settlement is set up for goods production before clearing and switching it over to diplomacy.
Follow #7 for the last two buildings, once you start it and collect the quest, you can delete it before it finishes --- they are not required to be built! This is the same for every building in the Vikings lineup.
JAPANESE
Japanese is a Settlement minigame that will ramp up your supplies bonus as well as provide Coin, lots of Forge Points (FP) and Goods as well as free military units! Here are tips and tricks to help out and we have created a Fuedal Japan Companion Guide to make it faster ...
First, review the HTW – SETTLEMENTS to get your Japanese Settlement started. That "opener" will allow you to exercise a Land Expansions and unlock Shrines in the shortest time.
Review the HTW – VIKINGS! to understand the overall concept when it comes to dealing with housing/roads, bulldozing/rebuilding and cycling between making goods and producing supplies.
Your first goal is to unlock the Merchant as quickly as possible. To do this, follow these steps:
Your first 8-hour stint should have 2 Soy Farms and 4 Houses = Total 20 Soy
Delete 1 Soy Farm and build 10 Toro's. Unlock Shinto Shrine (10 Soy) and delete Toro's.
Unlock 1 Land Expansion with remaining 10 Soy. Build more Huts and 2 more Shrines.
Use 5-Min productions on Shrines until Coin = 1,000. Set Soy farm to 4-hour production and Shrines to generate Coin. Rinse and repeat until the evening.

Optimally, in the evening you should have 15 Soy and at least 4,000 Coin. Your mileage may vary depending on the availability of land without obstructions (e.g., only able to have 2 Shrines so may have needed to replace remaining Soy Farm with Shrines early in day to build up 4,000 Coin).

Reset settlement to 2 Soy Farm, 1 Shrine and remaining Huts to run 2, 8-hour Soy productions. Upon completion, reset settlement accordingly to unlock Gallery and Merchant.

Now, depending on what the Merchant offers, you may or may not be able to unlock additional Land - so again, your mileage may vary but only unlock land that costs 8 Goods. No more should be required, but feel free should you have excessive impediments or hit a Goods bonus and have unused/unplanned excess (experience with the Settlement will help guide).

Unlock the House using the reset/production cycles accordingly. Replace all Huts with Houses (should only need 4 Houses).
Follow your cycle to build up the Goods for the next 2 unlocks (the Gates and Workshop/Tea House). Once you have enough Goods, unlock both at the same time.
Unlock and build 2 Manors.
Build up Goods for the last 2 unlocks (Zen Gardens and Dojo). Build, accept reward and delete.
Reset Settlement for final 8-hour productions (the Manors should provide the Coin for completion).
EGYPT
Nothing real yet, just a starting layout to get your combat stuff set up ...
MUGHAL EMPIRE
The Mughal Empire is a slow starting settlement, but quick finisher with delivery of building that that provides 30 FP and 15 Goods per day! The majority of the settlement play is the same as the others, but a great starting layout and tips are in the Mughal Empire Companion Guide.
Go back to Home Page.